---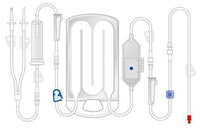 Sale
3M™ 24355 Ranger™ Fluid Warming Set High Flow 10/cs, 
Contents:
Heat exchanger, auto-venting bubble trap, needleless IV injection port, 2 IV spikes, drip chamber with 150 micron filter, 60 inch patient line
. This set can be used as a gravity flow system or with maximum dynamic operating pressure infusion up to 300 mmHg. The system is equipped with an auto-venting bubble trap capable of venting up to 3,000 mL of air per minute.
free shipping, no tax. 
SKU:  24355
Manufacturer:3M 
Manufacturer #: 24355 
Pack: 10/case
Before ordering  please check with us to confirm the stock status: please send email to sales@betterlifemart.com or call (702) 9725169
Every product is unique, just like you. If you're looking for a product that fits the mold of your life, the 3M™ 24355 Ranger™ Fluid Warming Set High Flow 10/cs is for you.

Inventory Last Updated: Sep 28, 2023