---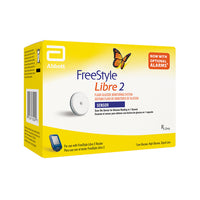 Sale
Abbott Freestyle Libre 2 Sensor, it
is a continuous glucose monitoring system which consists of a reader and a disposable sensor worn on the back of the arm.
Free shipping, no tax. 
SKU:
7195101
Manufacturer: Abbott
Small size and comfortable to wear - About the size of two stacked US quarters, the sensor may be scanned through clothing.

Painless application - A very thin filament sits just under the skin to measure interstitial fluid.

Accurate sensor readings - No fingerstick calibrations required, and the system has no interference with medications containing acetaminophen.

Water resistant -Stays on the body for up to 14 days, and can be worn while swimming, showering, or exercising.

Continuous monitoring - Continuously measures the glucose concentration in your interstitial fluid, and stores 8 hours of data.
 Before ordering please check with us  to confirm the stock status: please send email to sales@betterlifemart.com or call (702) 9725169
Imagine if you could be satisfied and content with your purchase. That can very much be your reality with the Abbott Freestyle Libre 2 Sensor glucose monitoring.

Inventory Last Updated: Dec 10, 2023