---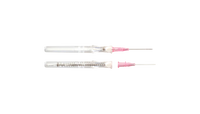 Sale
BD 381434
IV Catheter, Insyte Autoguard ,
shielded IV catheter, 
Peripheral IV Catheter, 20 Gauge 1.16 Inch Retracting Safety Needle
,
200/cs, free shipping, no tax. 
SKU: 381434 
Manufacturer: BD
Manufacturer #:381434 
Pack: 50/box, 4 boxes/ case,  200/ case
BD Insyte Autoguard shielded IV catheter incorporates advanced safety features including a push button that instantly retracts the needle, helping reduce the risk of accidental needlestick injuries. It also features notched needle technology that lets you easily visualize blood return along the catheter shaft, which can enhance care for fragile vessels or vessels without venous tone.
 Before ordering please check with us to confirm the stock status: please send email to sales@betterlifemart.com or call (702) 9725169
The BD 381434 IV Catheter Insyte Autoguard 20G x 1.16" 200/CS is a sensational customer favorite, and we hope you like it just as much.

Inventory Last Updated: Oct 03, 2023