---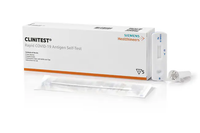 Sale
Clinitest Covid-19 Rapid Antigen self-Test,
 FDA EUA Authorized OTC at-home Rapid Antigen Test for COVID 19 test kit. ages 2 years and older; ages 14 and up may administer the COVID-19 rapid test kit at home themselves, but ages 2 to 13 years need an adult to administer the COVID-19 antigen home test. Easy-to-use antigen test kit lets you simply swab and test for an accurate, COVID 19 rapid test at home.  COVID 19 test kit for home use gives you results in 15 minutes,
Free shipping, no tax. 
SKU
:
11556711
Manufacturer:
Siemens
Expiration date : very good 
Pack: 5 tests/ pack,  170 packs /cs, 850 tests/case
Before ordering please check with us to confirm the stock status: please send email to sales@betterlifemart.com or call (702) 9725169
The Clinitest Covid-19 Rapid Antigen self-Test 850 tests/cs was built with people like you in mind. Something to keep you happy. Every. Single. Day.

Inventory Last Updated: Oct 03, 2023