---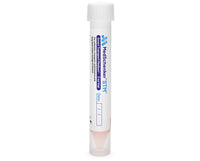 Sale
STM30-A1 Smart Transport Medium 3ML Vial 

Medschenker  

case of 1200, free shipping no tax 
SKU:STM30-A1
Manufacturer :Medschenker
Manufacturer part #: STM30-A1
Package : each case 12 boxes, each box  100 units, each case 1200 units
   Case 24.8x19.3x10.2 inch,  34Lb
( manufacturer old package 1000 units/ case, new package 1200 units/ case)
Certification: FDA Listed , CE marked 
Volume:3ML
Organism viability: 96 hours at room temperature
Material: Polypropylene
Shelf life:18 months or 5 days at 40°C (104°F)
Storage temperature:2 – 25°C (35.6 – 77°F)
Cap: CQ-Lock screw cap prevents leaks even in pneumatic tubes.
Can be processed using standard clinical laboratory operating procedures.
Electron beam sterilized to ensure 100% sterility.
The MedSchenker STM: Smart Transport Medium is an FDA-listed collection and transport system suitable for the maintenance and long-term freeze storage of viruses, STDs and Mycoplasma. 
The uncompromised quality of our premium components, 85% of which are from within the USA, bestow faster and more accurate results. They also inhibit bacteria and fungal flora growth, providing our STM with a shelf life of 18 months and organism viability up to 96 hours at room temperature. 
Available within a 100% polypropylene, skirted conical bottom 10 ml tube, which is compliant with 95 kPa IATA packing instruction 650 are three-volume options - 1.5 ml, 2 ml, or 3 ml. Our CQ-Lock™ screw cap will prevent leaks even in pneumatic tubes.
The STM30-A1 Smart Transport Medium 3ML Vial Medschenker case of 1200 was built with people like you in mind. Something to keep you happy. Every. Single. Day.

Inventory Last Updated: Sep 28, 2023